Ashitanomori Family bath in Pension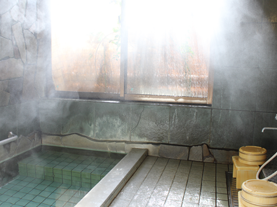 We have two private baths that are constantly refreshed with hot spring water. Please take your time, relax and enjoy Japan's rich 'onsen', hot spring culture. The waters of the Kawayu hot spring are said to have positive effects for all types of wounds, gynecological chronic illness, neuralgia, muscular rheumatism, and poor blood circulation.
Kawayu Spa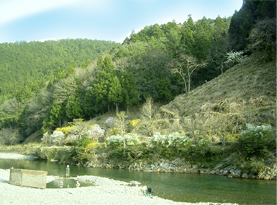 Here in Kawayu spa, hot mineral waters come up from the riverbed. Right in front of our inn, by the river, you choose a likely spot and dig out a natural "hot tub" along the riverside and wait for it to fill with hot water and your own private outdoor bath. We have all the tools you need to get you started. In summer, you can enjoy both swimming in the river's cold water and relaxing in open-air hot springs.
Senninburo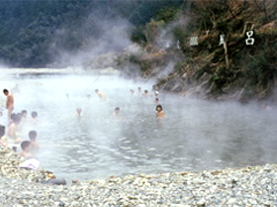 In winter, a magnificent huge open-air bathtub, called SENNINBURO, is waiting for you. SENNINBURO is open from 1st December to end of Feburary.